"There is such a thing as a catalytic personality.
Such people contribute to projects by helping teams
to form and join together, and to remain healthy and productive.
Even if team catalysts did nothing else (they usually do a lot else),
their catalytic role is important and valuable."
WANT TO BE PROMOTED?
(NB! Form for individuals: developers, programmers, engineers, designers, QAs, etc)
Please send your 1] e-mail 2] Skype ID 3] Linkedin 4] GitHub links to promotion@futurista.sk,
or please complete the form below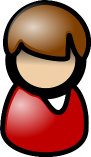 Oleksii
Automation Test Engineer
Citizenship - Ukraine
Promoted to US startup
Moved to Dominican Republic


Victoria
Online Marketing Expert
Citizenship - Ukraine
Promoted to Swiss startup
Moved to Switzerland